As our client, you will have a team of highly qualified professionals working for you to provide you with the best coverage for you, your family, or your business. Building a long-lasting relationship with our clients is our number one priority.
Linzy Frank
Principal Agent
Hi! I grew up in Alaska, where I spent many years as a gymnast before moving south to attend college at the University of Washington. I got my first job in the insurance industry in 2011, and although I had no idea what to expect going in, I knew from the very first day that it was the perfect career choice for me. Today, I am the primary agent for Sitka Insurance, as well as an active member of NorthStar Toastmasters and the Junior League of Syracuse. When I'm not in the office, you can often find me golfing or playing volleyball.
Nicholas Filippi
Licensed Risk Advisor
Hello! My name is Nicholas Filippi, I grew up right here in Central New York and I attended Solvay High School. After graduating, I attended Onondaga Community College and played on the Men's Basketball team while studying business management, and professional communications. From OCC, I transferred to Cazenovia College where I received my Bachelor's Degree in Sports Management. While at Cazenovia I was able to finish my collegiate career as the starting point guard my final three seasons. My love for assisting others, and meeting new people has landed me in the insurance industry. When I'm out of the office, you can find me playing golf, or on a basketball court.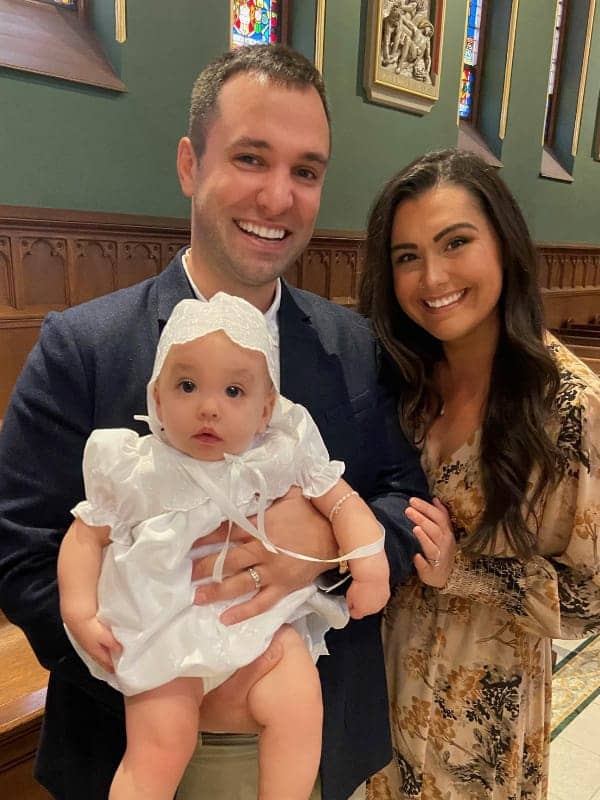 Lindsay Pawlewicz
Licensed Risk Advisor
Hi! My name is Lindsay Pawlewicz, born and raised in the Central New York area. I graduated from Tully High School in 2008 and was recruited to play Collegiate Volleyball at SUNY Oneonta. I earned my Bachelors in Communication Studies from Oneonta and shortly after moved to D.C. where I managed a restaurant near the White House and bartended at one of the cities nightclubs. From D.C., I moved down to Cocoa Beach, FL with my brother and sister in law (Linzy!). After a few fun years of bartending in the Sunshine State, I decided that I was ready to head back to NY to be with my family. I met my husband in 2018 at our previous job and we married in 2020. Recently, We welcomed our first child, Isabella, in October 2021.
I've always been a social butterfly and have always loved helping people so naturally, I landed in insurance! I am new to the industry after being in Fintech lending for years before. When I'm not in the office, I enjoy spending time with my family & friends, working out, wineries and breweries & love my Samoyed, Charlie.
Cheryl Amidon
Licensed Risk Advisor
Hi! My name is Cheryl Amidon. I was born and raised in CNY and currently reside in Cazenovia with my husband, Adam and our dog and cat. I have been helping people manage their risks and protecting their assets for 9 years. My past experience has been as an assistant Underwriter at Big I New York and a sales agent with both Allstate and State Farm. When I'm not in the office, I enjoy camping, bowling, riding 4-wheelers and snowmobiles with my husband and walking my dog.
Ian Frank
Operations Manager
Megan Leffew
Licensed Risk Advisor
Hello, my name is Megan Leffew, I grew up in Chittenango where I graduated in 2001. I met my husband my senior year and we later married in 2005. He was my high school sweetheart! We have two amazing children who are my everything. I have a small zoo at my house as we love animals. Our family absolutely loves music and enjoy going to show and concerts. I have been in the insurance industry since 2013. Funny thing is I kind of fell into insurance but immediately fell in love with it. I enjoy helping people understand their insurance needs. I am thrilled to start my new chapter at Sitka Insurance.
Dan Martin
Sales Executive
I'm Dan Martin born and raised in Syracuse NY. I Graduated from Bishop Grimes HS & Spent two years at Utica College where I played football and majored in English. Nowadays I'm married and a proud father of my 7 yr old daughter and 20 yr old son. I enjoy spending time with my family, watching sports, movies, reading, good IPA'S, a clean Scotch and occasional Cigar